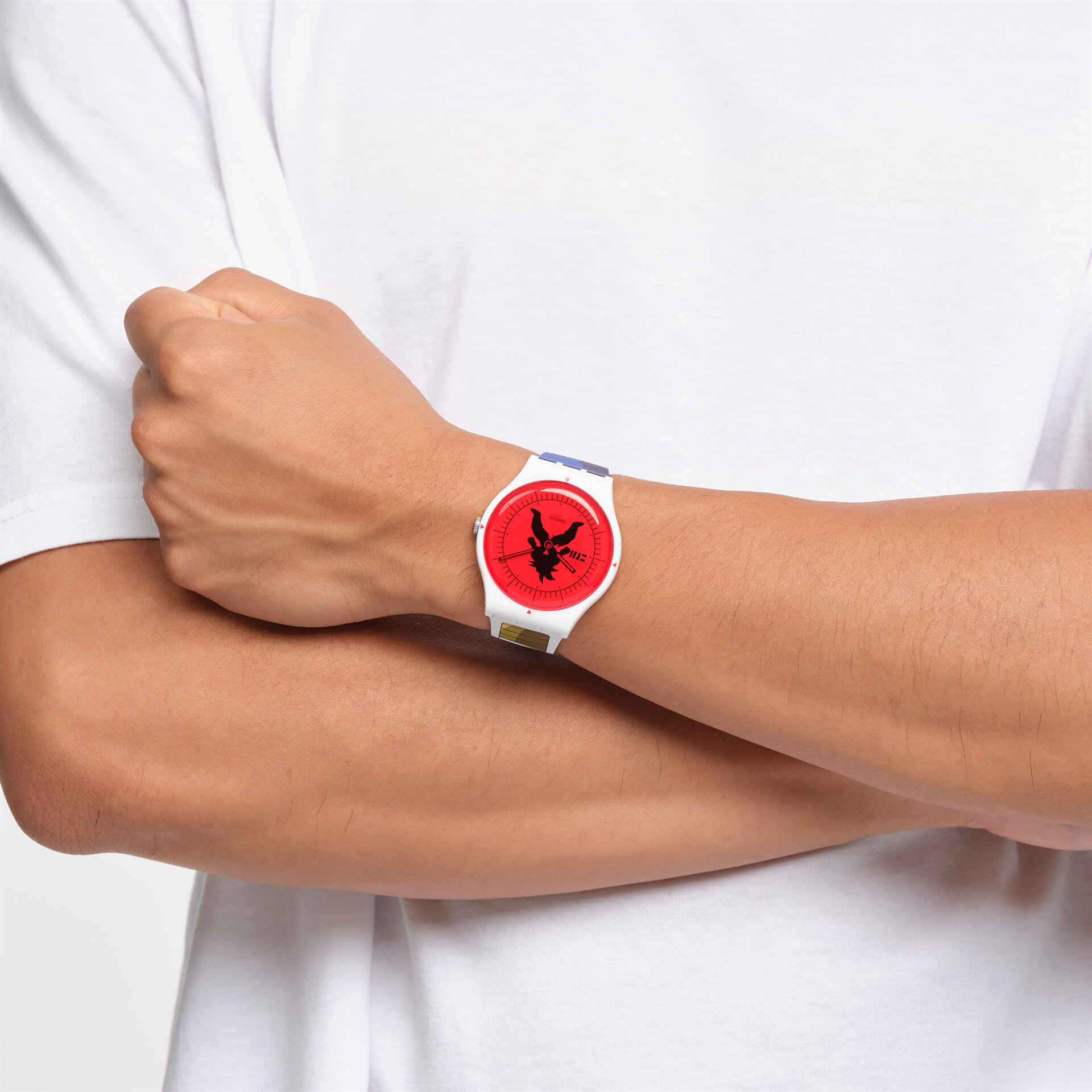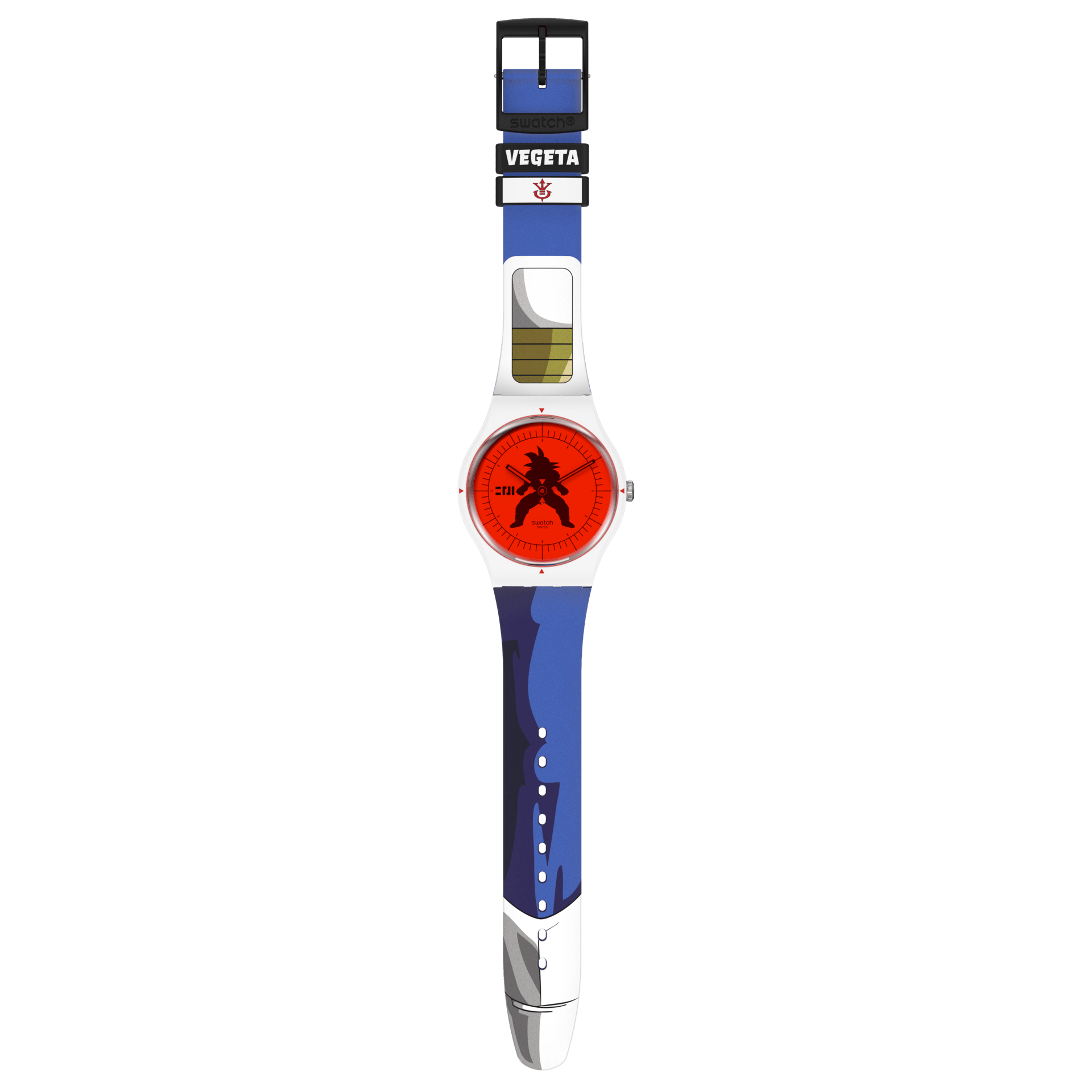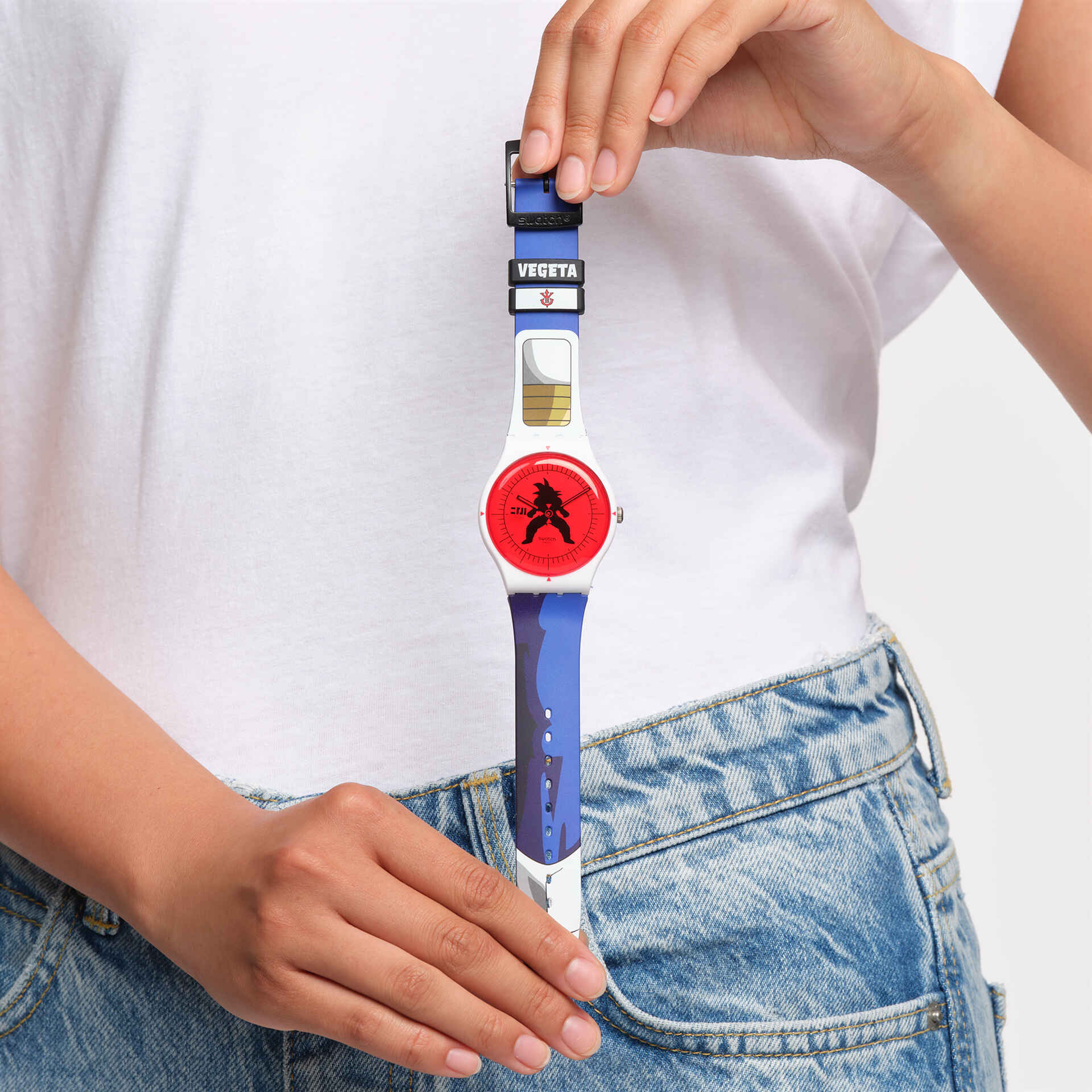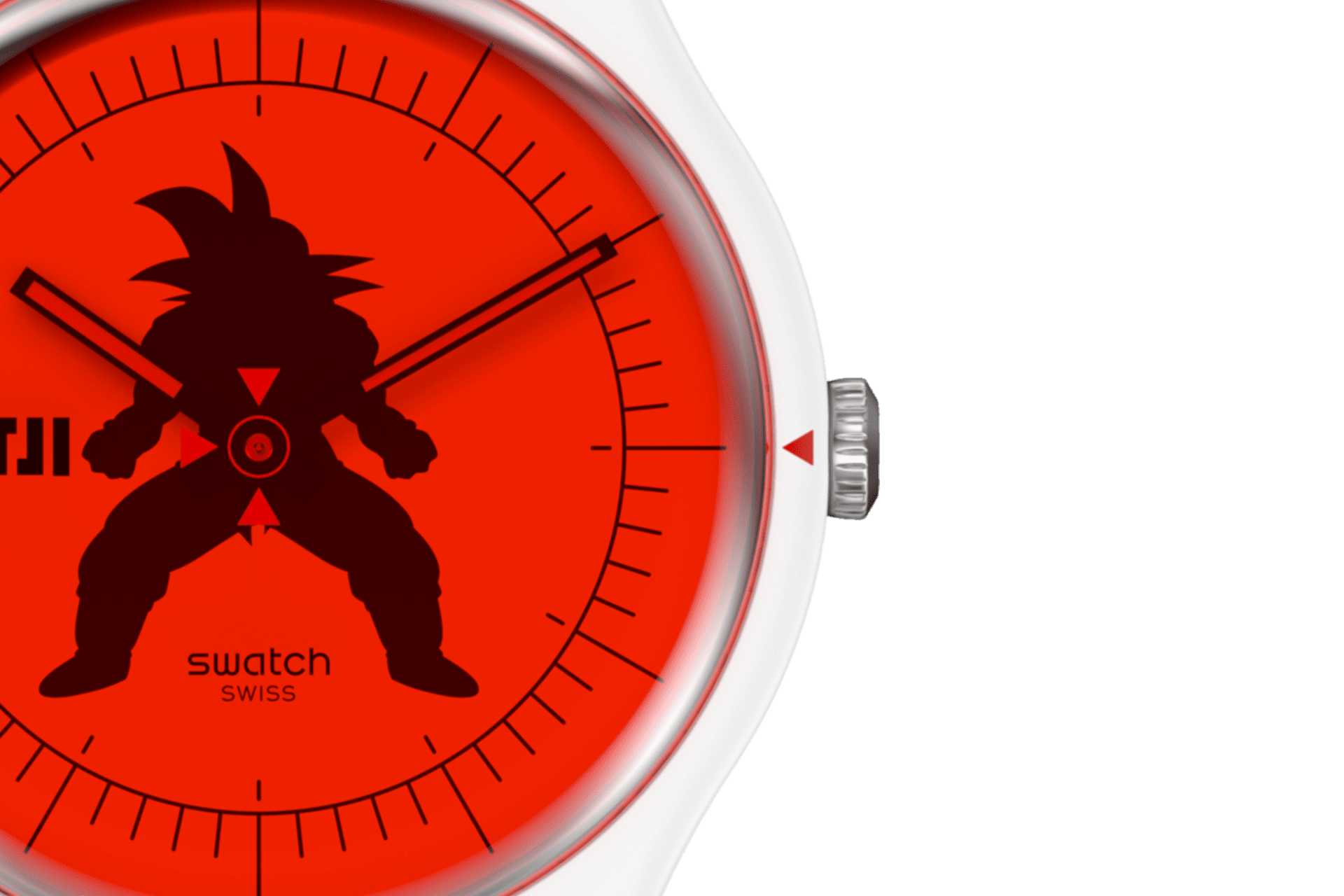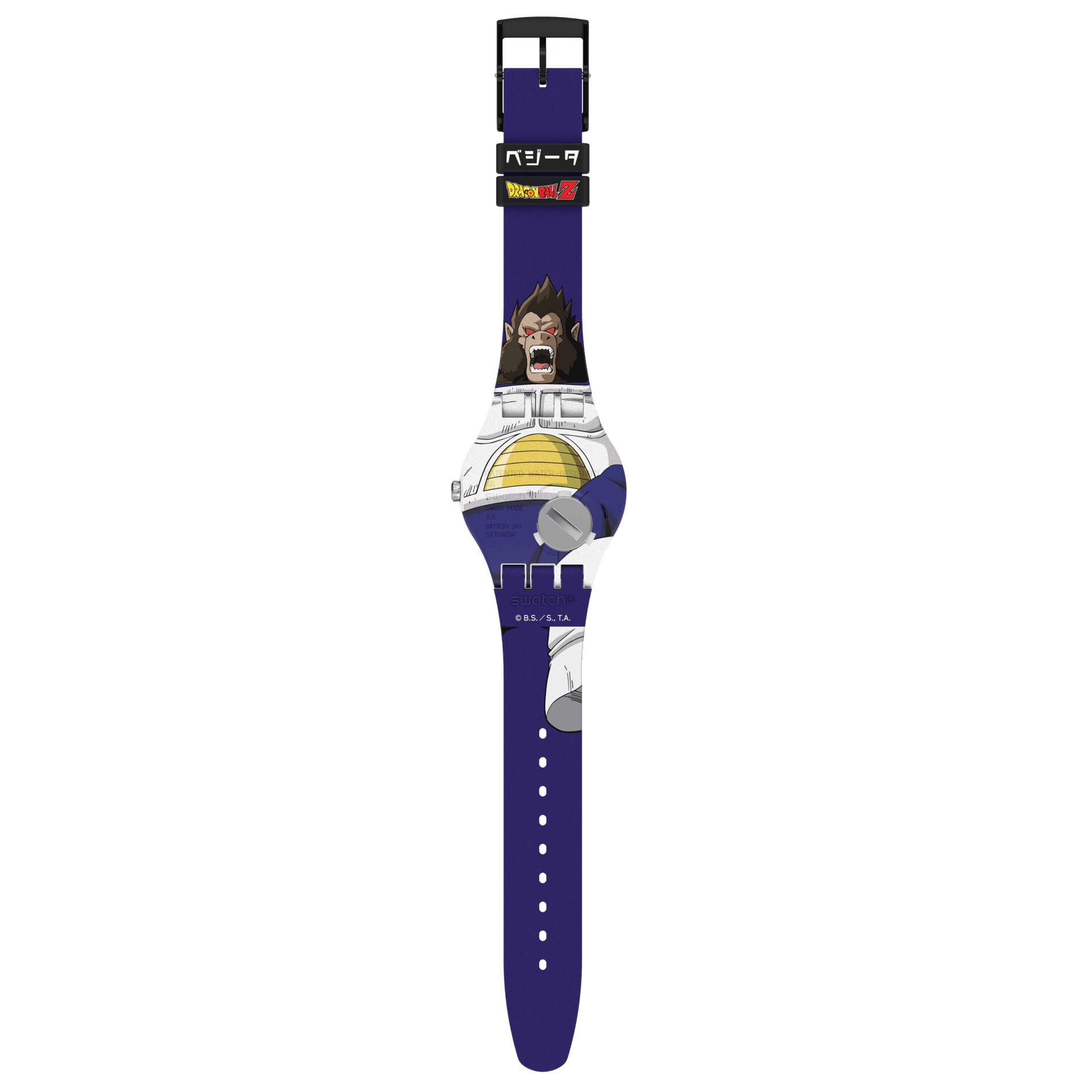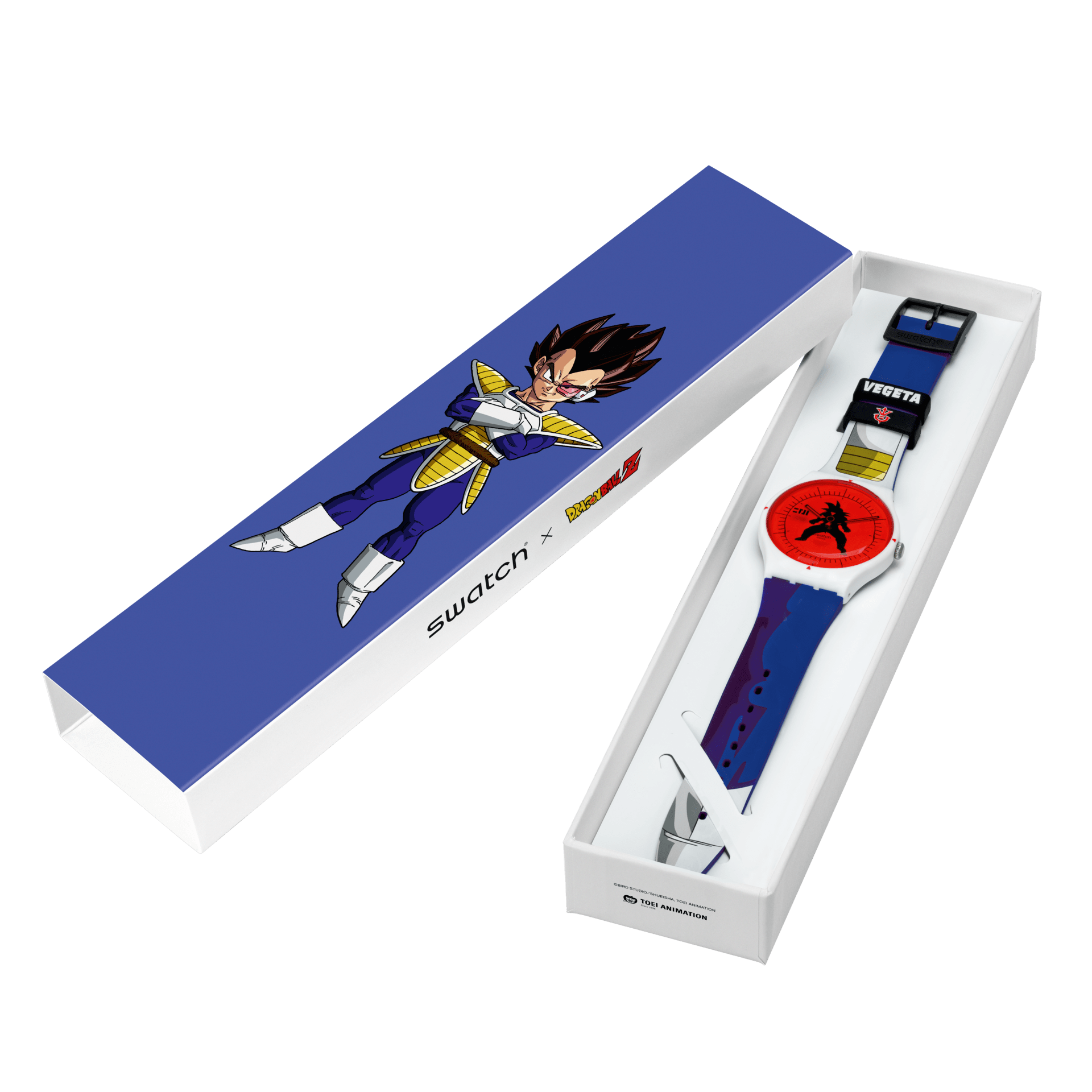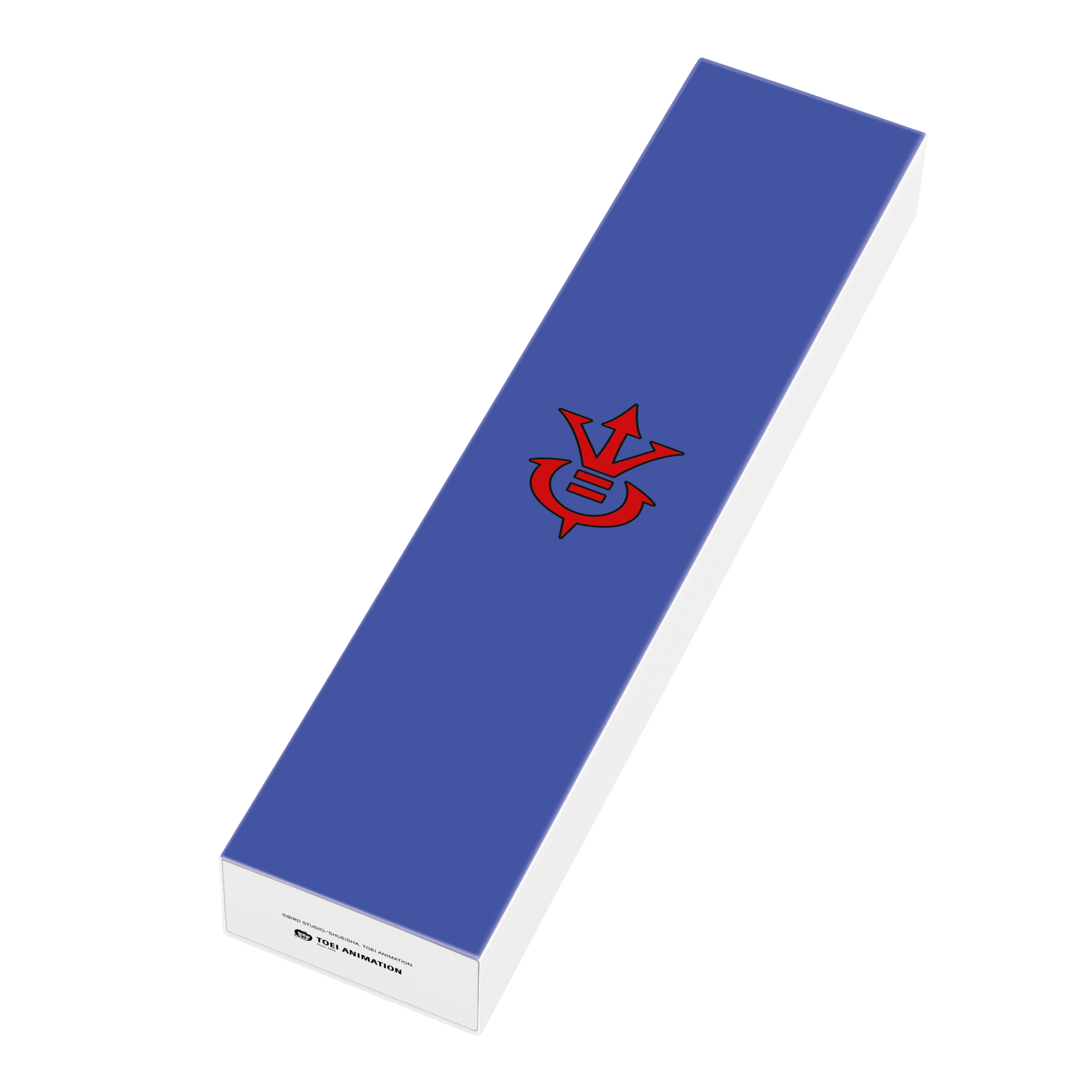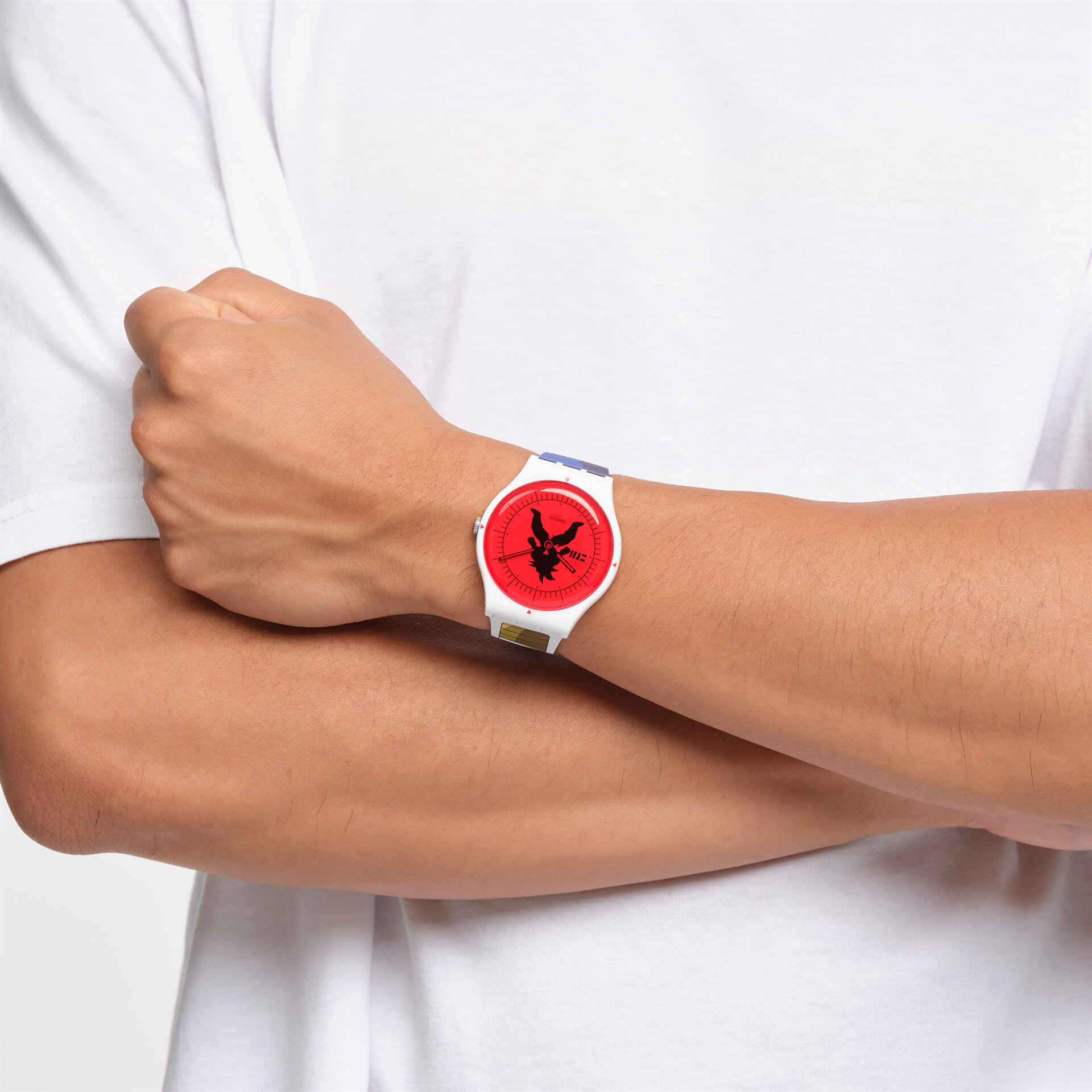 Brand: Swatch
Article No: SUOZ348
Get 120 By Best Points
Showcasing a Scouter-inspired red-colored glass with multi-colored print covering the white dial with a black Goku silhouette print, Vegeta's ready to read Goku's power level with this Dragon Ball Z watch. It features a solid-white case with a red print and a blue silicone strap with a multi-colored 'Great Ape' print on the back. Comes in special packaging.
SWISS MADE
All Swatch watches are labeled Swiss Made. Swiss Made embodies a concept of quality forged over many years. It includes the technical quality of watches (accuracy, reliability, water-resistance and shock-resistance), as well as their aesthetic quality (elegance and originality of design). It covers both traditional manufacturing and new technologies (micro-electronics).
Swatch: Swiss Made since 1983.
TWO-YEARS WARRANTY
Your SWATCH ® watch is warranted by Swatch Ltd* for a period of twenty-four (24) months from the date of purchase under the terms and conditions of this warranty. The international SWATCH warranty covers material and manufacturing defects existing at the time of delivery of the purchased SWATCH watch ("defects"). The warranty only comes into force if the warranty certificate is dated, fully and correctly completed and stamped by an official SWATCH dealer ("valid warranty certificate").
During the warranty period and by presenting the valid warranty certificate, you will have the right to have any defect repaired free of charge. In the event that repairs are improper to restore the normal conditions of use of your SWATCH watch, or if you purchased a SWATCH watch the case of which cannot be opened, By Best guarantees its replacement by a SWATCH watch of similar model. The warranty for the replacement watch ends twenty-four (24) months after the date of purchase of the replaced watch.
This manufacturer's warranty does not cover:
The life of the battery.
Normal wear and tear and aging (e.g. scratched crystal; alteration of the color and/or material of nonmetallic straps and chains, such as leather, plastic, textile, peeling of the plating).
Any damage on any part of the watch resulting from abnormal/abusive use, lack of care, negligence, accidents (knocks, dents, crushing, broken crystal, etc.), incorrect use of the watch, and non-observance of the use directions provided by By Best.
Any SWATCH watch handled by non-authorized persons (e.g. for battery replacement, services, or repairs) or which undergoes alterations in their original condition beyond By Best control.
All applicable implied warranties, including the implied warranty of merchantability and of fitness for a particular purpose given to you by law, are hereby limited in duration to the duration of this warranty.
UNDER NO CIRCUMSTANCES WILL BY BEST BE LIABLE FOR ANY indirect or consequential damages of any kind.
Some states do not allow limitations on how long implied warranties last, or exclusions or limitations of incidental or consequential damages, so exclusions or limitations mentioned may not apply to you. This warranty gives you specific legal rights and you may also have other rights which may vary from state to state.

BIJOUX
Funky and elegant bijoux, designed with colored crystals and intentionally crafted to perfectly match your Swatch watches.
THE EYES
Feast your eyes with The Eyes. Sunglasses that got your style and eyes covered.
"BY BEST GROUP" CLIENT CARD
What is the "By Best Group" card
It is a program that allows you to earn points with your purchases in our 4 stores and spend them in each of them through a single card. The "By Best Group" card is used only in the chain of stores of the company "By Best Duty Free". Through the "By Best Group" card you get discounts, gifts, promotions and activities dedicated only to you in the stores: SWAROVSKI, SWATCH, BLUKIDS, VILLEROY & BOCH.
How the "By Best Group" card works
The "By Best Group" card is not transferable to other persons not declared on the membership form.
How to use the "By Best Group" card
Present the "By Best Group" card every time you make a purchase in partner stores.
Collect points in each of these purchases starting from 100 ALL. For every 100 ALL spent you will earn 1 point. Accumulated points will be displayed on the purchase invoice.
Become part of the benefit clubs starting from 150 points. For every 150, 250, 500, and up to 1,000 points, you have the right to request a voucher at the box office, with which you will benefit, discounts or gifts.
In case you forget to use the card in your purchases, the points can not be passed to you manually from the cashier to the card. The card is mandatory to use both in the purchase and in the download of points. Without the present card no action can be performed at the checkout.
In cases where the system may be offline you do not lose any points. They will be transferred to the card the moment the connection is made. The same thing happens when you want to download your points while the system is offline. You will be able to take advantage of the coupon in a second and use it in your purchases.
The "By Best Group" card is not and is not valid as a credit card. It can not be used for monetary transactions, but only to accumulate points and gain the privileges set for the members of the scheme.