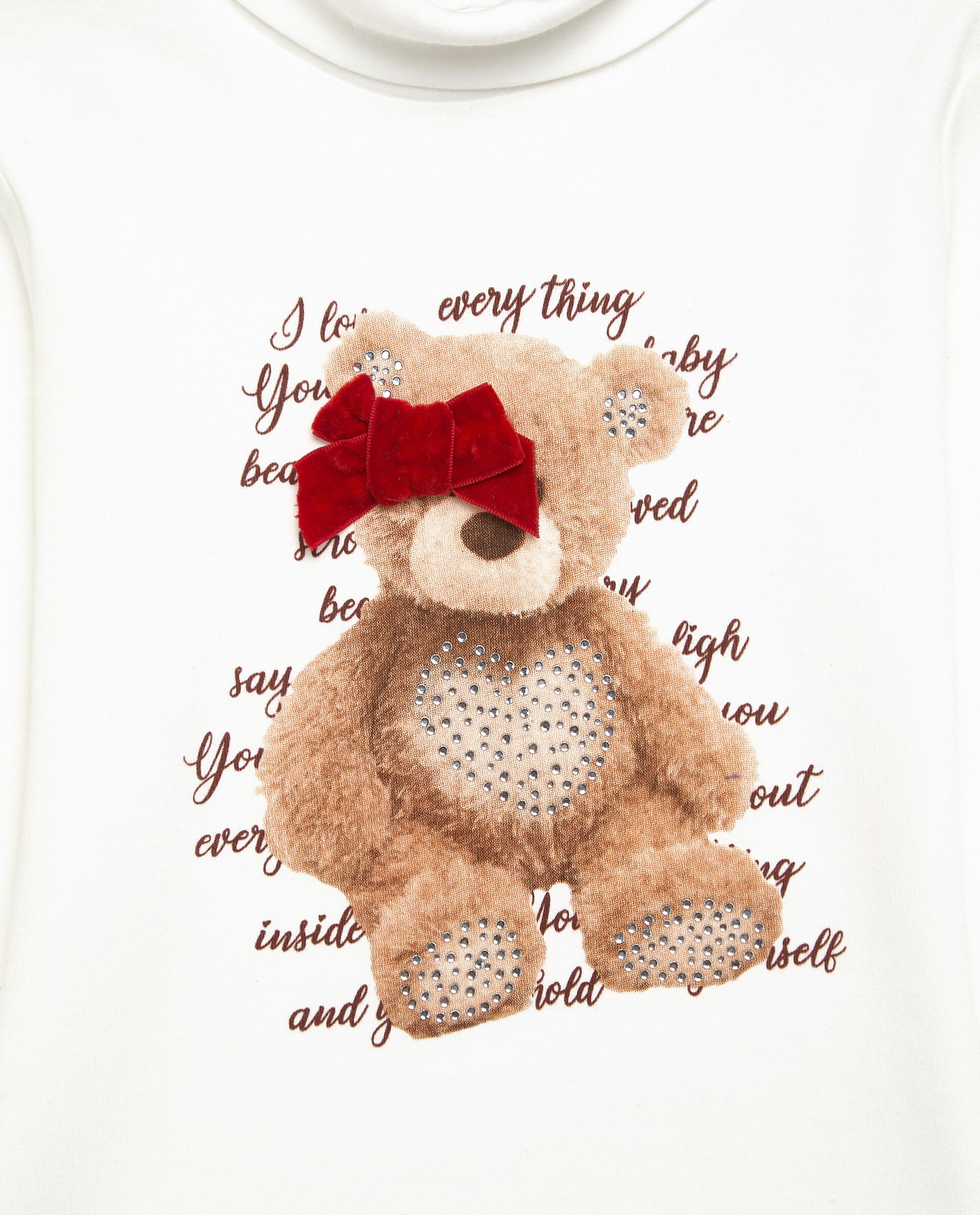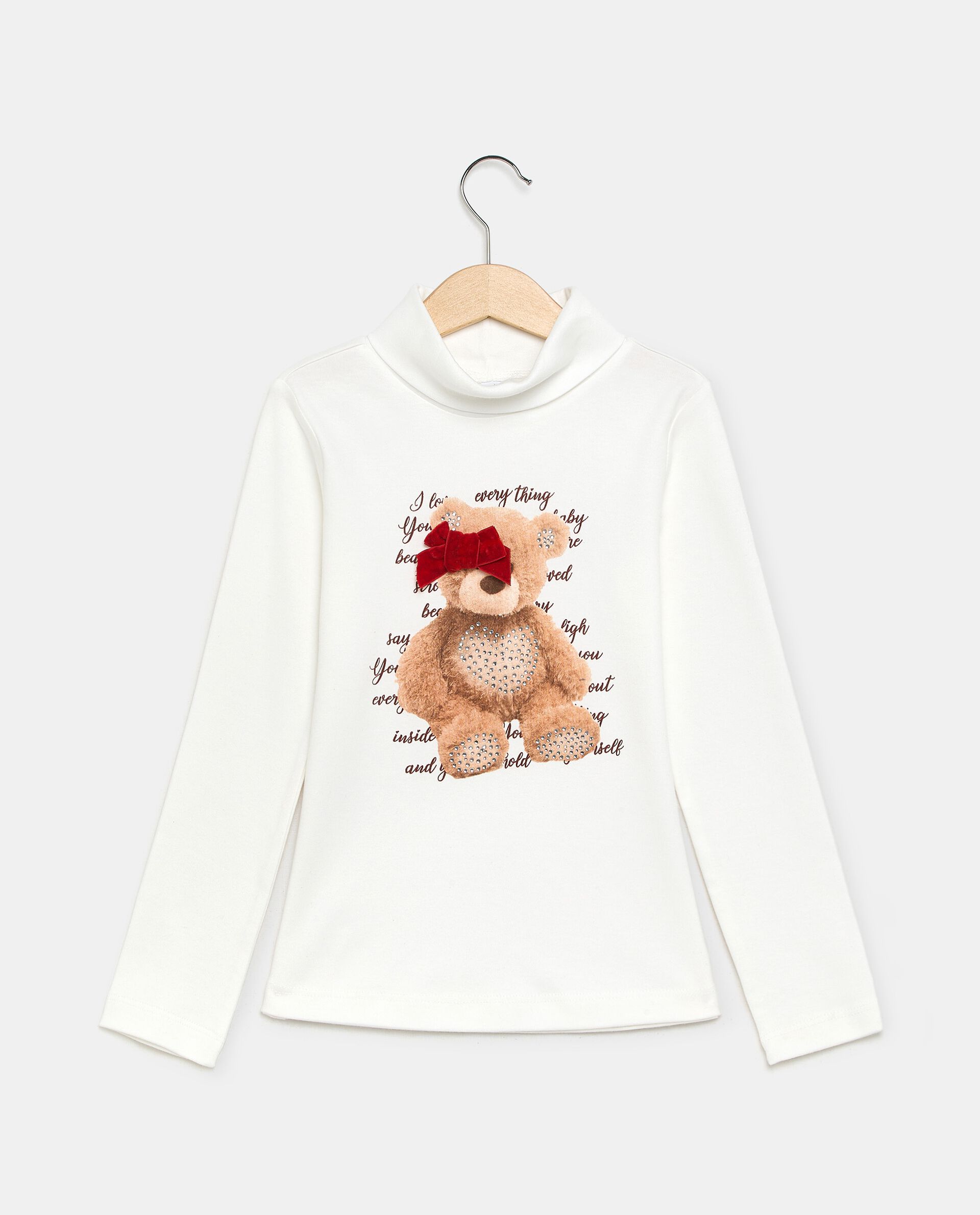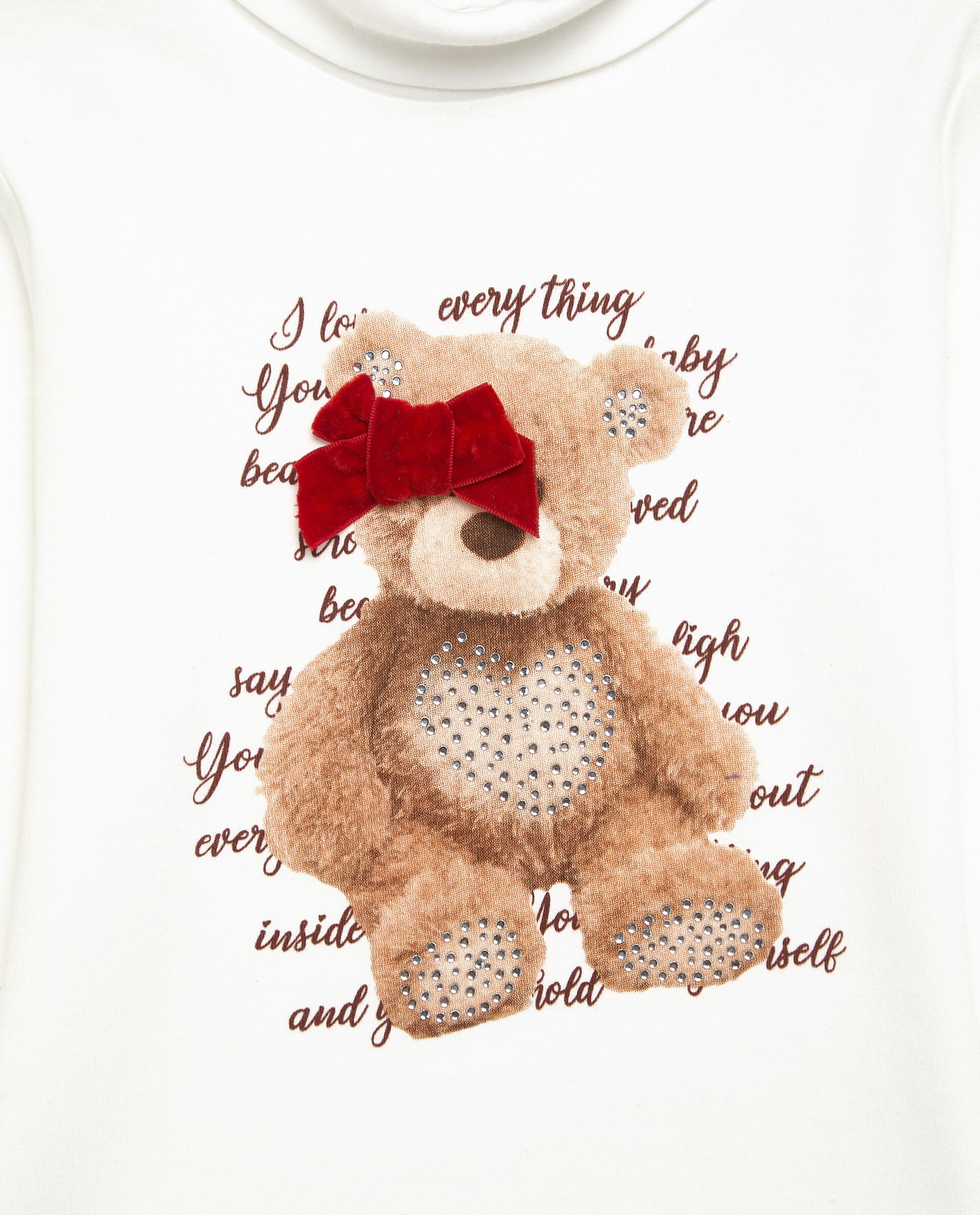 GIRLS'S SWEATERS
Brand: Blukids
Long-sleeved pure cotton interlock turtleneck. Front print with rhinestone application and velvet bow. Solid color.
Material: 100% COTTON
Color: SNOW WHITE
Size: 9-10 Years, 3-4 Years, 4-5 Years, 5-6 Years, 6-7 Years, 7-8 Years, 8-9 Years
STORY
Blukids is an Italian brand dedicated to clothing and accessories for children aged 0-15, part of the Upim group.
100% Bio Cotton dresses are the headline of Blukids.

Cotton clothing grown on soils uncontaminated with pesticides and chemicals ensure the softness and proper ventilation of your children's skin.

Blukids quality is synonymous with practicality and functionality, and builds an excellent value for money.
Blukids pursues innovations and innovations by introducing the use of Bamboo Fiber in the newborn category.
Bamboo fiber is an antibacterial, hypoallergenic fiber, which provides protection of the child from UV rays to the extent of 98% and provides natural odor control.
Paili is also part of the constituent fibers of the Blukids collections.
Paili is a lightweight and thermal fiber that provides comfort to your baby.
Blukids follows the latest fashion trends and is ranked as a modern and contemporary brand, where in addition to clothing you can also find accessories, clothing, and shoes.
Italian design, colors, and styles characterize Blukids dresses for every day and for your little ones's holidays or birthdays.
Blukids has the franchise of important patents like Disney, Warmer Bross and Marvel.
Blukids clothing is certified by OEKO TEX, a worldwide testing and quality certification system. OEKO TEX certification is a competitive advantage for Blukids.
Blukids is part of the Better Cotton Initiative campaign, as a brand with high social responsibility.
"BY BEST GROUP" CLIENT CARD
What is the "By Best Group" card
It is a program that allows you to earn points with your purchases in our 4 stores and spend them in each of them through a single card. The "By Best Group" card is used only in the chain of stores of the company "By Best Duty Free". Through the "By Best Group" card you get discounts, gifts, promotions and activities dedicated only to you in the stores: SWAROVSKI, SWATCH, BLUKIDS, VILLEROY & BOCH.
How the "By Best Group" card works
The "By Best Group" card is not transferable to other persons not declared on the membership form.
How to use the "By Best Group" card
Present the "By Best Group" card every time you make a purchase in partner stores.
Collect points in each of these purchases starting from 100 ALL. For every 100 ALL spent you will earn 1 point. Accumulated points will be displayed on the purchase invoice.
Become part of the benefit clubs starting from 150 points. For every 150, 250, 500, and up to 1,000 points, you have the right to request a voucher at the box office, with which you will benefit, discounts or gifts.
In case you forget to use the card in your purchases, the points can not be passed to you manually from the cashier to the card. The card is mandatory to use both in the purchase and in the download of points. Without the present card no action can be performed at the checkout.
In cases where the system may be offline you do not lose any points. They will be transferred to the card the moment the connection is made. The same thing happens when you want to download your points while the system is offline. You will be able to take advantage of the coupon in a second and use it in your purchases.
The "By Best Group" card is not and is not valid as a credit card. It can not be used for monetary transactions, but only to accumulate points and gain the privileges set for the members of the scheme.