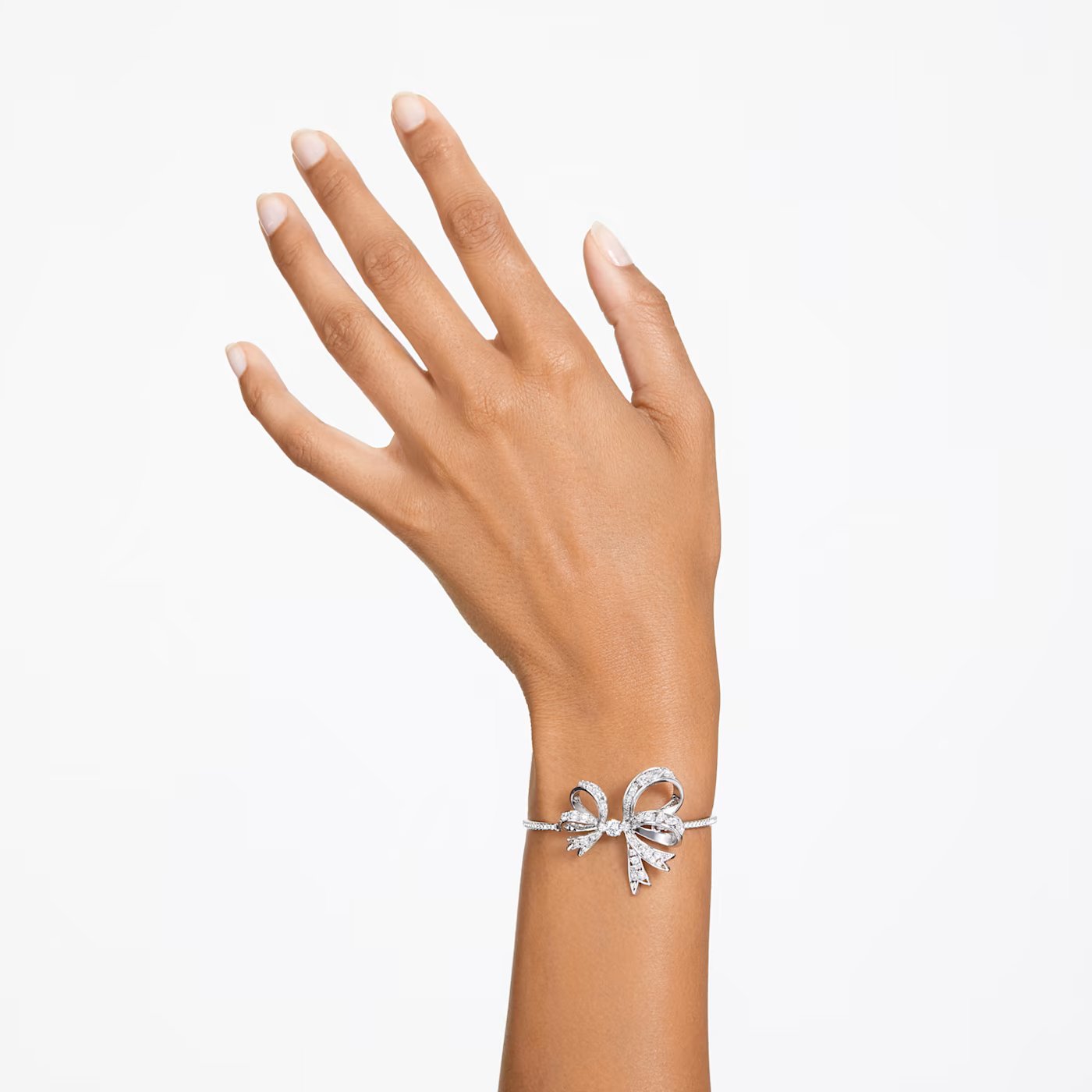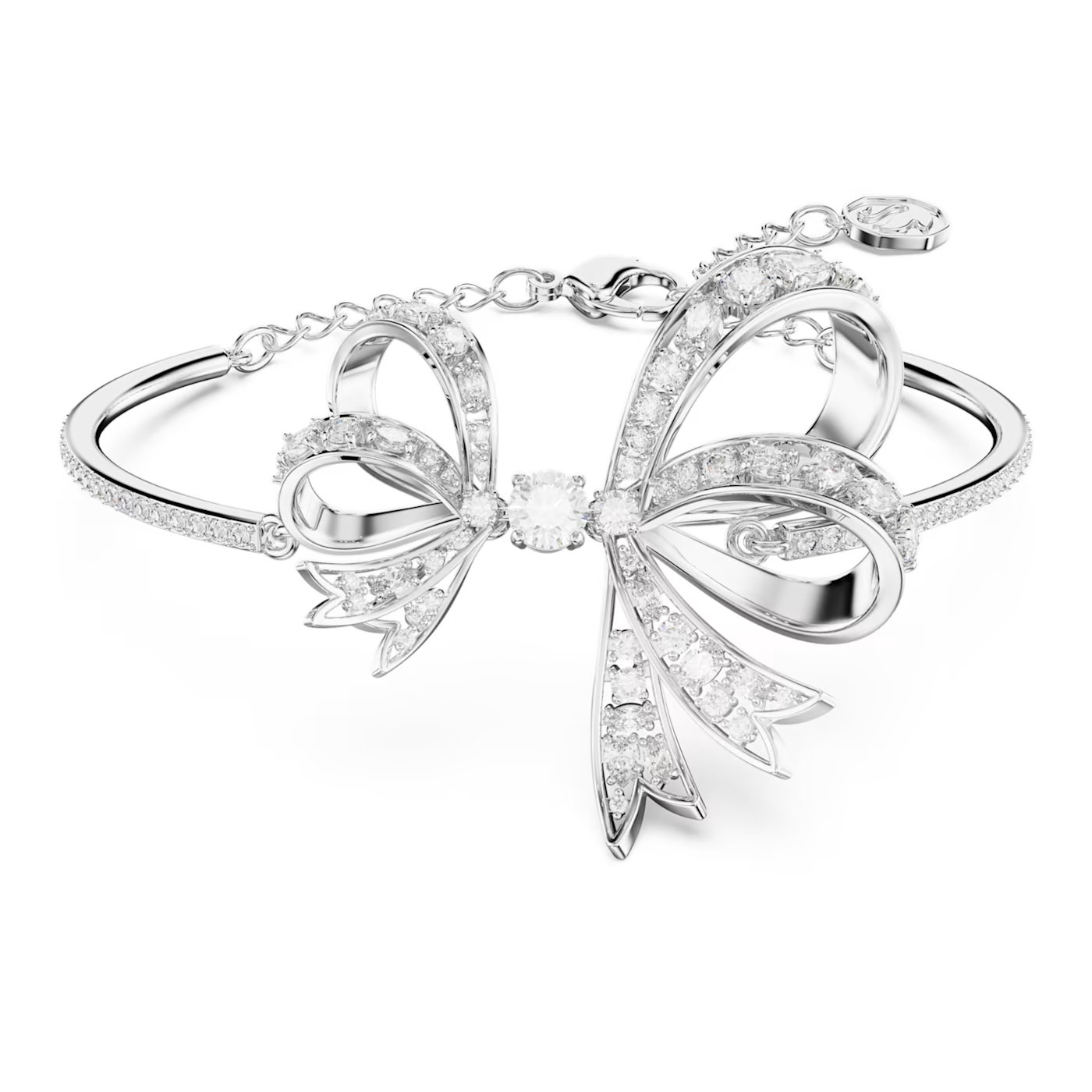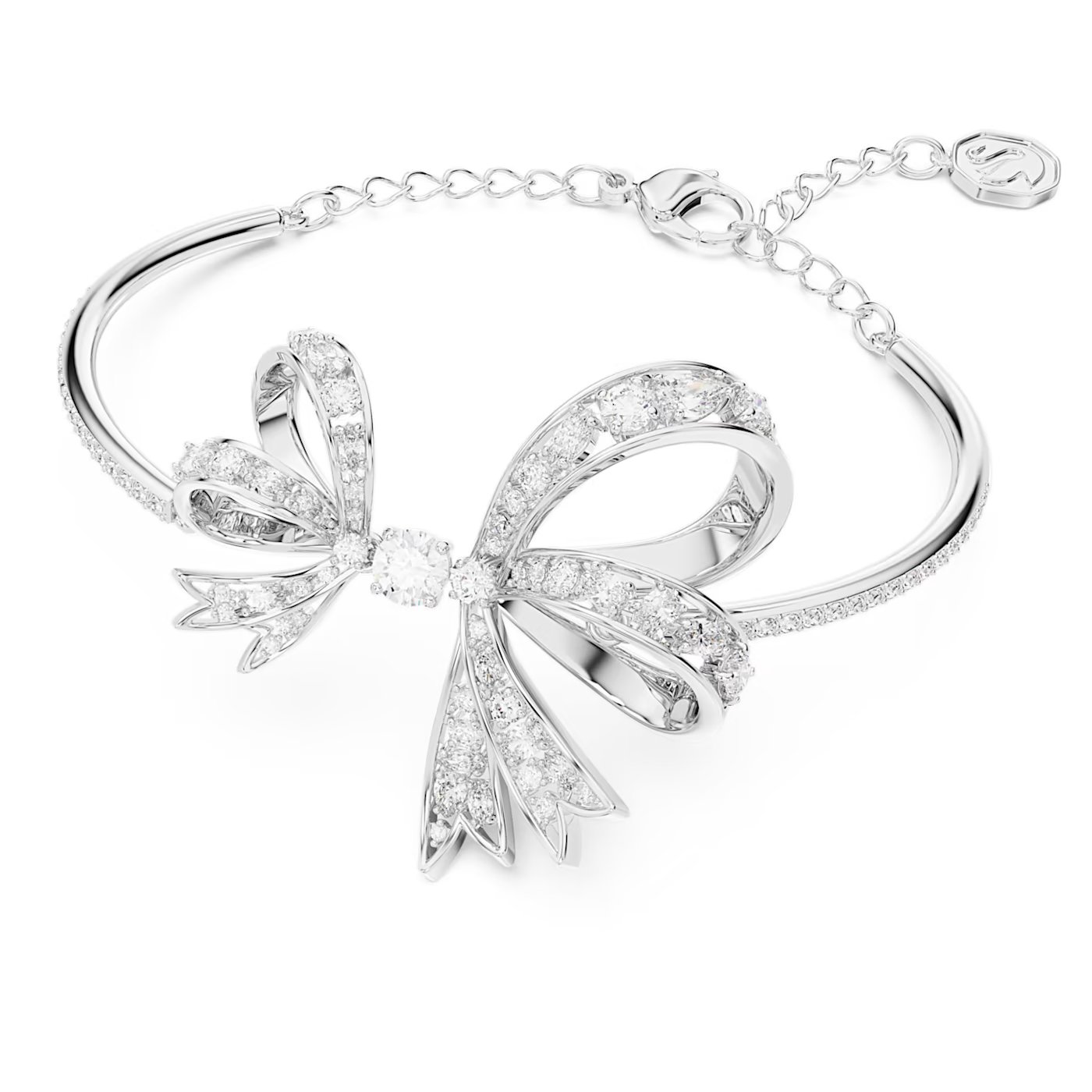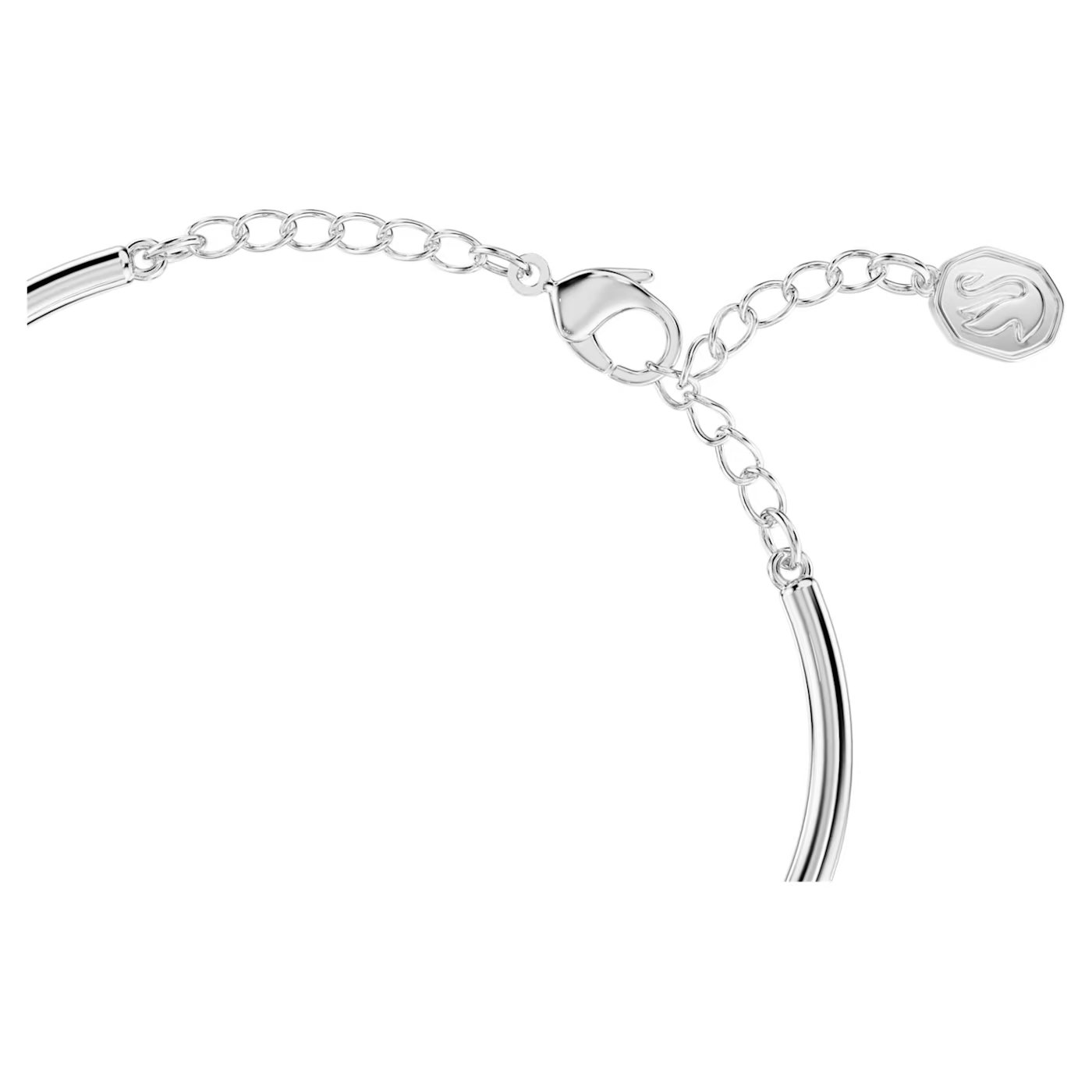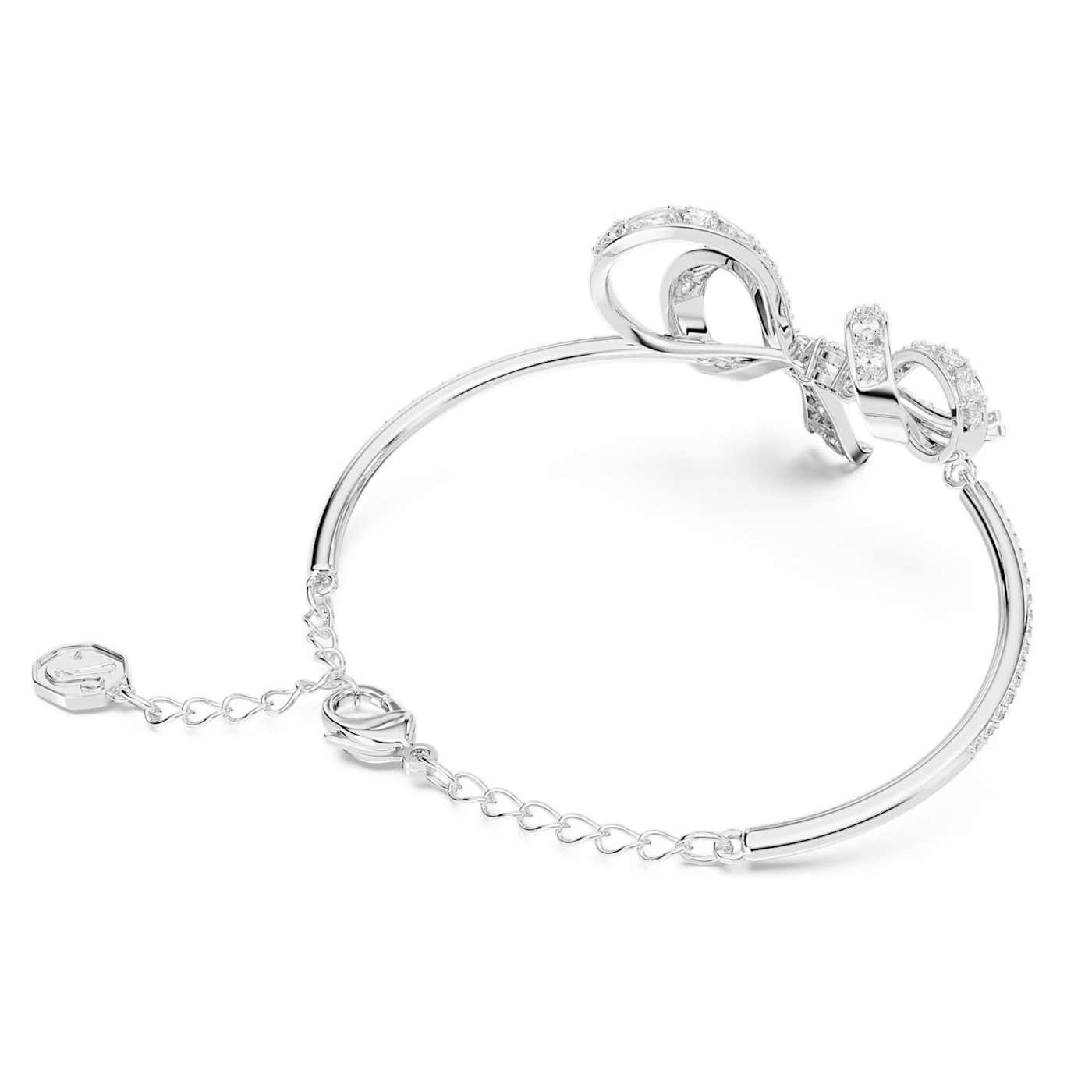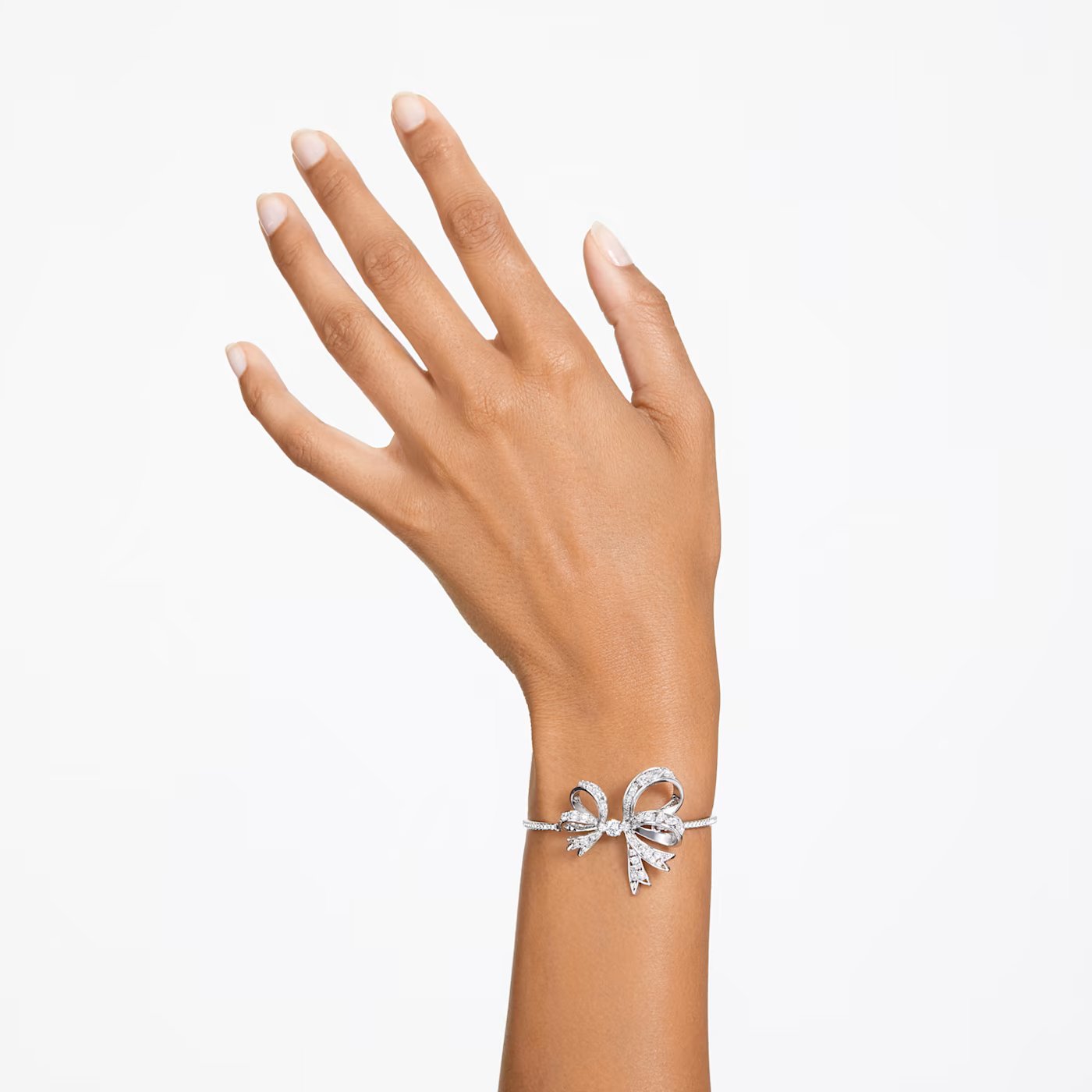 Bow, White, Rhodium plated

Brand: Swarovski
Article No: 5647563
Get 240 By Best Points
The most beautiful way to wrap your wrist, this bow-inspired bangle is one of the shining highlights of the Volta family. The bangle itself features a pavé of clear crystals, while the central ribbon design is elegantly adorned with more clear stones using the chattonage technique. Wear this rhodium plated piece of jewelry to create a look of modern elegance, or present it to someone as a gift on a special occasion.
Color: White
Maximum length: 17 cm
Motif length: 3.5 cm
Motif width: 3.3 cm
Material: Crystals, Rhodium plated, Zirconia
SWAROVSKI WARRANTY POLICY
Swarovski offers an international full statutory warranty for two years covering manufacturing and material defects for genuine branded Swarovski products purchased from Swarovski own stores (including Online) or authorized Swarovski retailers.
The warranty only covers damage that, in the opinion of Swarovski or an authorized Swarovski retailer, is not caused by accident or inappropriate use, ordinary wear and tear, modification, attempted repair, negligence, or by failure to follow Swarovski's special product Care Advice.
1. Replaced by an identical piece, if available:
2. Substituted with a piece of comparable value; or

3. Repaired depending on the degree of damage to the warranted product as well as on the feasibility and the availability of replacement parts. The damaged product should be given to the closest Swarovski Shop or an authorized Swarovski retailer that will send it to the local Swarovski sales company. If products are sent by mail they should be insured and sent by certified or registered mail, as Swarovski cannot be held liable for damage, loss, or theft incurred during transport. This warranty service is provided free of charge. Please retain the purchase or delivery receipt, the gift receipt, or the certificate of authenticity in case you have a warranty claim. The receipt or the certificate serves as proof of purchase and authenticity for products purchased and as evidence of entitlement to this warranty. These warranty conditions apply if there are no specific warranty conditions granted for specific products. Swarovski reserves the right to amend or adapt these warranty conditions, with implications for the future, at its discretion at any time. This warranty does not affect your statutory rights.
CARE ADVICE
JEWELRY
All Swarovski fashion jewelry is traditionally crafted and therefore very delicate. As a result, special care is required. Please, follow the following care instructions:
1. Store your jewelry individually in the original packaging or a soft pouch to avoid damage.
2. Polish your jewelry frequently with a lint free cloth to maintain its original sparkling condition
3. Our recommendation is to always put the jewelry on last, as a finishing touch to an outfit.
4. And don't forget to remove your Swarovski jewelry before washing your hands, swimming, or using products such as perfume, hairspray, soap, or lotion. Such products may harm the metal, cause discoloration, or cause a loss of crystal brilliance.
5. Avoid contact that may scratch or chip the crystal.
CRYSTAL CREATIONS AND HOME
1. Polish your product carefully with a soft, lint free cloth or clean it by hand with lukewarm water. Do not soak your crystal products in water
2. Dry with a lint free cloth to maximize brilliance.
3. Do not use harsh, abrasive materials or glass/window cleaners.
4. When handling your crystal, it is advisable to wear cotton gloves to avoid leaving fingerprints.
"BY BEST GROUP" CLIENT CARD
What is the "By Best Group" card
It is a program that allows you to earn points with your purchases in our 4 stores and spend them in each of them through a single card. The "By Best Group" card is used only in the chain of stores of the company "By Best Duty Free". Through the "By Best Group" card you get discounts, gifts, promotions and activities dedicated only to you in the stores: SWAROVSKI, SWATCH, BLUKIDS, VILLEROY & BOCH.
How the "By Best Group" card works
The "By Best Group" card is not transferable to other persons not declared on the membership form.
How to use the "By Best Group" card
Present the "By Best Group" card every time you make a purchase in partner stores.
Collect points in each of these purchases starting from 100 ALL. For every 100 ALL spent you will earn 1 point. Accumulated points will be displayed on the purchase invoice.
Become part of the benefit clubs starting from 150 points. For every 150, 250, 500, and up to 1,000 points, you have the right to request a voucher at the box office, with which you will benefit, discounts or gifts.
In case you forget to use the card in your purchases, the points can not be passed to you manually from the cashier to the card. The card is mandatory to use both in the purchase and in the download of points. Without the present card no action can be performed at the checkout.
In cases where the system may be offline you do not lose any points. They will be transferred to the card the moment the connection is made. The same thing happens when you want to download your points while the system is offline. You will be able to take advantage of the coupon in a second and use it in your purchases.
The "By Best Group" card is not and is not valid as a credit card. It can not be used for monetary transactions, but only to accumulate points and gain the privileges set for the members of the scheme.